CWR asked to help on high profile case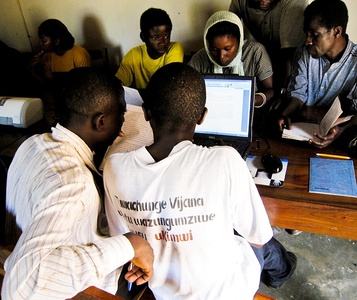 Kjerstin Erickson has a unique mission. The startup she founded as a 20 year old Stanford sophmore, FORGE, specializes in establishing schools, libraries, and training centers at refugee camps. Her strategy turns an immediate crisis into an opportunity for long term development.
Now, Consulting Within Reach will do the same for her. CWR will be developing a long term plan for FORGE's sustainability – while Kjerstin is fighting to take her organization through a high profile and immediate crisis.
FORGE needs to raise about $100,000 before February 1, 2009. Her shortfall came as a result of changes in her funding model, the worldwide spike in food and fuel costs (which hit her African staff hard), and key grant applications failing.

Her crisis is not uncommon among startup nonprofits. What is uncommon is the sterling reputation she has in the worldwide community of social entrepreneurs. In 2007, Kjerstin was selected as a columnist for Skoll Foundation's Social Edge site, probably the leading online community of international nonprofit leaders.
What is also uncommon is Kjerstin's recent step of fully disclosing her plight to the Skoll Foundation community on her blog. This step, categorized in management theory as "radical transparency," has earned her increasing attention. Sean Stannard-Stockton, a leading outside commentator, has called Kjerstin's column, "the most important nonprofit blog" today.
Through Sean, Kjerstin discovered Consulting Within Reach and asked us to help. We decided that our best contribution would be to help her develop a plan for her long term financial and organizational sustainability. This plan will actually be crucial for her short term efforts by giving her a credible answer to potential donor's inevitable question, "How do I know you won't be in this same position next year?"
I believe that with our pro bono help and the publicity she is receiving, this crisis may actually be the catalyst for the long term development of FORGE.
In a further twist, when the Skoll Foundation leaders of the Social Edge community heard about CWR's commitment, they asked CEO Curtis Chang to serve as a co-blogger on Kjerstin's column. You can read the ongoing discussion here.
What started out as a crisis is turning into an interesting and very public experience in transparency and nonprofit consulting. The Meyer Memorial Trust, one of the leading foundations on the West Coast, has publicly stated that "this story deserves the rapt attention all nonprofit organizations, foundations and donors these days."
Stay tuned!
Update 11/15/08: Read media coverage on the story and CWR's role here in the San Francisco Chronicle.