New client chooses CWR to shore up its bottom line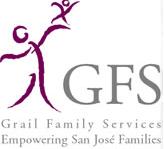 Veronica Goei, the Executive Director of Grail Family Services, already faces pressing demands every day in her role. When faced with the pressure of meeting deadlines for several high stakes grant applications, she turned to CWR.
But given the declining assets of private foundations and cuts in public funding, Veronica also recognized that soon after this grant cycle, she needed to turn her attention to increasing her individual donor base. For that, she required further help in building her marketing capacity.
The typical outside grantwriter comes in and spends time (and the nonprofit's money) gaining extensive knowledge about the agency's particular appeal to donors and composing the proposal. But then that's it.
In most cases, if the executive director needs further outside expertise in marketing, she must bring in an entirely new consultant, spending more time and money for another relearning process.
Veronica chose Consulting Within Reach because we are a one stop shop that can address grantwriting, marketing, fundraising, and more. After having formulated her appeal to foundations, we will be well suited - when she is ready to do so - to translate that appeal into a marketing campaign aimed at individuals
Our range of services also opens up the potential for long term relationships with our clients. And that's one of the greatest joys for us as a team: helping a client grow over time to reach its true potential.