The power of co-branding for nonprofits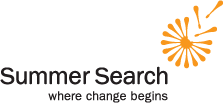 Summer Search is one of the nation's premier youth development organizations. It mentors and resources low income high school students such that they become successful college graduates. As an indicator of their impact, 93% of their students become the first time college graduates of their families.
The organization has rapidly expanded across the country in the last few years, with sites in San Francisco, Boston, New York, Philadelphia, Seattle, and more.
But as its scope becomes truly national, how can its marketing keep pace - especially without a proportionally ballooning advertising budget?
Consulting Within Reach is guiding our new client with a strategy that has been relatively underutilized in Summer Search's marketing up to this point: co-branded partnerships.
Summer Search's mission naturally takes it into numerous relationships where it delivers unique value to other strong brands. For instance, several well known universities depend on Summer Search for its low income student recruitment. CWR will help our client structure such partnerships such that Summer Search can piggyback more off of other institutions' name recognition and audiences.
We believe this strategy will help Summer Search stretch its marketing reach to national dimensions, without breaking the bank.
Our approach with Summer Search is emblematic of our ability to be sensitive to nonprofit realities while also injecting practices honed by our corporate experience. Contact us if you'd like to benefit from our distinctive mix of expertise.